Applications now open for the 2021 program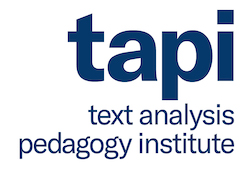 Conducting research today requires more than traditional critical thinking and information literacy skills. Students need a toolkit of methodologies for working with vast digital resources.  JSTOR and Portico — both services of ITHAKA — hold over 470 terabytes of digital content published over hundreds of years and covering myriad disciplines and topics. While basic and advanced searches can retrieve relevant information from these repositories, the scale of these and other resources like them offers the opportunity to gain new insights by looking across large bodies of work in new ways.
Enter text analytics, a methodology used to investigate millions of pages of text to look for trends or patterns. Text analysis is growing in the digital humanities, data science, and other academic disciplines and industries. Just one example of this work is the use of text analysis and machine learning to discover Jim Crow and racially based legislation signed into law in North Carolina from the end of the American Civil War through the Civil Rights Movement, 1866-1967.
The major issue with this type of research is that far too few people know how to write code or work with data. "We hear frequently from librarians that there is growing interest in data analytics on their campuses among both faculty and students. The ability to use and interpret data is increasingly important in every academic discipline," says Kevin Guthrie, president of ITHAKA, "but few colleges and universities have the capacity to support that need."
The Text Analysis Pedagogy (TAP) Institute aims to change that. Funded by the National Endowment for the Humanities, the TAP Institute is being led by ITHAKA's JSTOR Labs Team in partnership with the University of Virginia and University of Arizona. Offering ten free online courses to current and aspiring teachers of text analysis, the collaboration aims to achieve three things: to build text analysis skills among faculty committed to teaching this digital skill; to create open teaching tools (digital notebooks that can be used locally or in hosted environments) that can be used by faculty at other institutions; and to nurture a community of practice to support one another.
The TAP Institute courses will be run virtually in 2021 throughout the month of June. In order to foster interactive learning, space will be limited to 20 participants per course. The application deadline is April 15, 2021.
Asked what the long-term goal of this work is, Dr. Nathan Kelber, who is a data science professor and Director of the TAP Institute for JSTOR Labs, said, "Text analysis is a digital literacy skill that college graduates need.  Employees and citizens increasingly need to rely on text analysis to solve large-scale, intractable problems. By collaborating with institutions and creating a community of teachers, we hope to accelerate learning of this new competency."